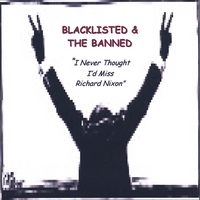 Blacklisted & the Banned will have 3 songs off theire new album featured on WFUV on Sunday 4/29 between 4pm and 5pm.  The show is the long running "Woody's Children" hosted by Bob Sherman.
Blacklisted will play the upcoming Green Party of Suffolk pot luck fundraiser.
Blacklisted features traditional folk & blues stylings which are used to capture the call for peace and change in the priorities of the current leaders in Washington DC
From Woody Guthrie to Bob Dylan to the Dixie Chicks, topical music has been an important cultural tool reflecting the concerns of society and the yearning for a safer, saner world. "Blacklisted and The Banned" was formed in 2004 as off shoot of Long Island's senior citizen rockin' blues band – "The Defibrillators". "Blacklisted" features timely original material to provoke thought, discussion, and occasional laughter. Of course the incursion in Iraq and the Bush Presidency are at the heart of the matter and this collection is in many ways a sequel to Sonny's albums "How Does A Patriot Act?" and "Bibles, Guns & Flags". The band recently received an award from the South Country Peace Group for "raising spirits and consciousness to promote peace and justice".
The "Banned" consists of:
Sonny Meadows – Guitar & Vocals
Bob Campbell – Guitar & Vocals
Bob Westcott – Bass, Guitar & Vocals
Jon Foreman – Electric Guitar & Vocals
Robert Langley – Percussion & Vocals
Filed under: Ecology, Green Party Websites, international politics, Our Favorite Radio Stations, Recommended Music Tagged: | Uncategorized