Two soulful and talented singer-songwriters from Baltimore will be performing on Long Island this weekend –

SONiA and

Karyn Oliver.
The following evening, Saturday, April 19, another Baltimorean, Karyn Oliver, who writes and sings ballads & rockers and is a past president of the Baltimore Songwriters Association, shares the bill with Marc Douglas Berardo, a gifted, New England-based contemporary folk troubadour and guitarist, during the Folk Music Society's monthly Hard Luck Café series.

Glen Roethel and I were pleased to feature both of these talented up-and-comers as part of our AcousticMusicScene.com Showcase at last fall's Northeast Regional Folk Alliance (NERFA) conference.

You can catch them at the Congregational Church of Huntington, 30 Washington Drive (just off Route 25A) in Centerport.

The 8:30 p.m. concert is preceded by an hour-long open mic at 7:30 p.m. (www.fmshny.org). 631-425-2925. $10; $7 for FMSH members.
On Friday night, April 18, I have the distinct pleasure of g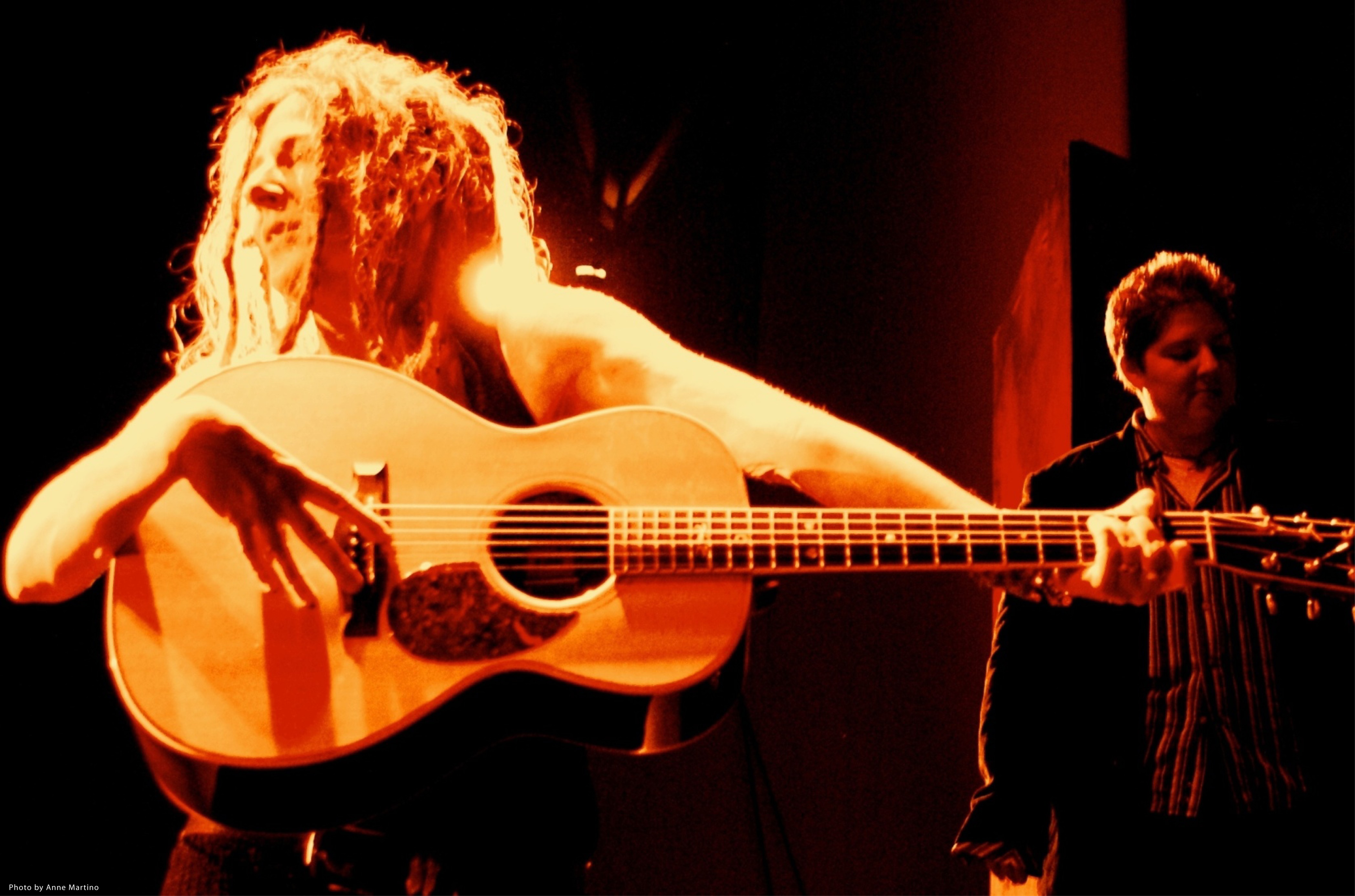 uest emceeing for the Our Times Coffeehouse and introducing a gifted songwriter and guitarist whom I've seen and enjoyed in concerts and festivals a number of times both solo (as she'll be this night) and accompanied by percussionist Laura Cerulli in disappear fear.

She spreads the message of love, peace and equality through her folk-rock music.

Expect to hear songs sung in Spanish, Hebrew and Arabic, as well as English, when SONiA visits the Our Times Coffeehouse at the Ethical Humanist Society building, 38 Old Country Road , Garden City. 8 p.m. (www.ourtimescoffeehouse.org). $15.

"We think in languages.

It very much carves out our world for us," said SONiA during a wide-ranging conversation with me last fall for an interview-profile piece entitled SONiA & disappear fear do the Tango that appears in the Features section of AcousticMusicScene.com. Through her music, SONia says she is trying "in a small way, to bring the world together." Although she performed at the coffeehouse several years ago as part of a Phil Ochs Song Night, I believe this is SONiA's first solo LI appearance.
SONiA, who was scheduled to perform Friday night for the Our Times Coffeehouse in Garden City, has come down with laryngitis.  As a result, the coffeehouse will not take place this month.

A short note from SONiA follows

i am sorry to tell you that i have no voice and so

tomorrow's show in

Long Island

will have to be rescheduled to a later date.

We sent out many postcards announcing this show and i was so looking forward to that gig!  Also my appearance at 

Johns Hopkins University

at the Take Back the Night Rally tonight and next Friday's Show in Carbondale will also likely need to be rescheduled..please check our web site next week to see if i make it!.

due my huge concert in NY at Bodles Opera House last Saturday night…i blew out my voice…doctor says "NO SINGING" till my whole voice comes back for 2 full days…till then it is tea and honey and paintings. everybody take care of yourself. Happy Pesach the holiday that honors freedom!! see what that means for you and live into it! ride em High…

And mark your calendars for Saturday, May 3, when the Folk Music Society of Huntington hosts what promises to be another wonderful evening of music.

The Falcon Ridge Preview Tour concert features four artists chosen by Falcon Ridge Folk Festival attendees last year as their "Most Wanted" to return emerging artists – Joe Crookston, Anthony da Costa, Lindsay Mac and Randall Williams.

The 8:30 p.m. concert in Centerport is preceded by an hour-long open mic at 7:30 p.m.

Admission is $20; $15 for FMSH members.

Williams, a captivating guitarist who is partial to the use of partial capos in standard and alternate tunings (Indeed, he wrote the book on them for Hal Leonard) also conducts a two-hour Partial Capo Techniques Workshop for guitarists from 4-6 p.m. The workshop fee is $25 in advance by sending a check made out to Folk Music Society of Huntington to P.O. Box 290 , Huntington Station , NY 11746 or $30 at the door (if slots are still available).

Pizza and soft drinks will be provided to participants following the workshop.
More information on these and other concerts in our area appears in the AcoustiCalendar section of AcousticMusicScene.com.

Mike Kornfeld
Visit AcousticMusicScene.com
News & Commentary for the Folk, Roots
& Singer-Songwriter Communities
big news on the horizon
.       love, sonia           hope to see you down the road, partner.
Filed under: events, Long Island Music, More Events Calendars, original music, Recommended Music