PeaceSmiths Hotline: (631) 798-0778
Peace Smiths Topical, A-Typical, Folk Music, Poetry and Whatever Coffeehouse with Singer/Songwriter Heather Lev and poet Steve Schmidt (aka Zetschka).
Friday, January 4, 2008 at 8:00 pm
First United Methodist Church, 25 Broadway/Rt. 110
(southmost end near Merrick Rd./Montauk Highway) in Amityville.
$7 donation less if necessary, more if possible
This month's coffeehouse is unique. With the slogan "8 in 2008" in mind, the starting time of the coffeehouse is moved earlier, to 8:00 on the dot. For this January's coffeehouse, the musician and the poet will alternate short sets back and forth, so that music and poetry will be interspersed throughout the evening. Of course, there will be open time at the end of evening.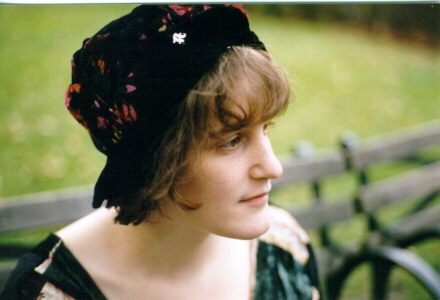 Award-winning singer/ songwriter/ guitarist/ multi-instrumentalist Heather Lev writes original, whimsical, philosophical, inspiring, and political songs, in styles ranging from folk-rock sing-a-longs, to traditional-sounding bluegrass tunes, to a capella rounds. She has won two Great American Song Contest Honor Awards (for "Lost Love & Bad Weather" and "The Village is Haunted"), an Honorable Mention in the 2003 John Lennon Songwriting Contest for "Harlan County" and a Puffin Foundation Award for her Songwriting. Her two releases, "On the Train to Babylon" (2004) and "Reason of Rain" (2000) have received strong reviews and radio play worldwide.
Susan Blake had been planning on having Heather Lev perform at the coffeehouse, and it is wonderful to be able to follow through on Susan's wish to share her music with the PeaceSmiths community.
Poet Steven Schmidt is a software developer who has worked on accounting,
engineering, clinical lab, and genomic applications. He has a B Math from Univ of Waterloo (Ontario) and an interest in modal & relevance logic and self-referential paradoxes.
Schmidt has had poems published in Soundings, Zephyr, Hookah, and Xanadu. He has made tunes for poems by Jack Kerouac, Raymond Patterson, Kathaleen Donnelly, and Emily Rogers. He was active in the Great South Bay Poetry Cooperative. He has participated in the Long Island Poetry Collective peer workshop for 11 years. Currently, Steve Schmidt hosts the Northport Arts Coalition's Poets in Port readings on the last Friday of each month. He has performed at the coffeehouse before, and Susan Blake dubbed him a "surrealistic muse, writer, chanter, storyteller."

A donation of $7 (half for kids) is suggested to help promote the Coffeehouse series and towards PeaceSmiths' ongoing work for peace and justice. The Coffeehouse is held the first Friday of the month from October to June. PeaceSmiths is a non-profit community organization established in 1972. The work of PeaceSmiths includes educational, activist, cultural and mutual help projects. Projects include issues of disarmament, environmental concerns, human rights, freedom of expression, and economic and social justice.
PeaceSmiths regular Monthly Forum for December is canceled due to the holidays. The next Monthly Forum will be the Presidential Primary Candidates Debate on Friday, January 18, 2008. We are inviting candidates and/or representatives of candidates to speak.
Background:
Heather Lev has performed at festivals such as the New England Folk Festival (NEFFA), the Northeast Music and Dance Festival (NOMAD), and the Folk Project of New Jersey.
Heather has received many accolades from radio hosts, other performers, critics, and venues. Her single, "What Have you Done," was among the top 20 songs of October 2004 on the FOLKDJ-L radio playlists, based on 11963 airplays from 146 different DJs worldwide. Raves include:
"Heather Lev has found the heart of the political folk music of the sixties and brought it up to date, with engaging singing and catchy arrangements, and lyrics perhaps even more forceful and direct than her forbearers would have even considered. This is very evident in "What Have You Done," from her new album. I loved the song immediately." – JD Doyle, Producer of Queer Music Heritage, on KPFT FM, Houston, and Co-Producer of Audiofile, the CD review segment on This Way Out, heard on 150 stations around the world.
"Heather's positive presence and engaging songs were a joy to feature."–Cathedral Arts Festival, Jersey City, NJ;
"These songs are very, very good and need to be heard in the world."–NY Pinewoods Folk Music Club Newsletter CD review.
"Thanks for some very fine politically relevant music." –WRFG
"Bravo!"–Odetta
"Great political songs." –CITR radio show Vancouver, BC/Vancouver Critical Mass.
Heather's songs have been published and quoted in the New York Times, several compilation albums, various publications, and as a soundtrack on a documentary film. Originally from Michigan, Heather Lev has lived in New York City for the last 9 years. Heather sings, and plays guitar, flute, lap dulcimer, ukulele, ukelin (a turn-of-the century bowed psaltry), pennywhistle, and many other odd instruments.
–
Schmidt claims the following have influenced his poetry:
Sumerian poetry
The Elder Edda
Ikkyu Sojun
Troubadors Arnaut Daniel and Guirat de Bornelh
(Steve Schmidt claims to have been, in a previous life, a peasant killed by Bertran de Born.)
Minnesingers Walter von der Vogelweide and Neidhart von Reuenthal
"Sir Gawain and the Green Knight"
Thomas Campion
Ramprasad Sen
Emily Dickinson
Robert Graves
Kurt Schwitters
Tristan Tzara
Hugo Ball
Jean Arp
Federico Garcia Lorca
Shinkichi Takahashi
Laura Riding
Vernon Watkins
Mary Barnard
Leonard Cohen
Peter Sinfield
Devo
Lydia Lunch
Babes in Toyland (esp. _Spanking_Machine_)
George Wallace
Filed under: events, Long Island Music, More Events Calendars, open mic, original music, Peace, Political Websites, Recommended Music, Recommended Poetry Tagged: | heather lev, peacesmiths, steven schmidt, Susan Blake