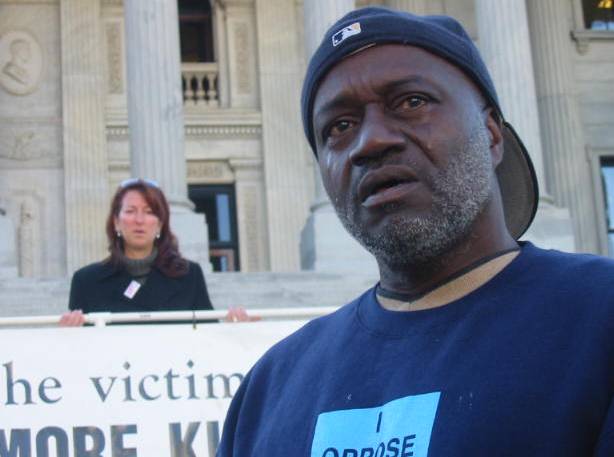 NEW YORKERS AGAINST THE DEATH PENALTY
LONG ISLAND CHAPTER EVENT
HOFSTRA UNIVERSITY PRESENTS
Shujaa Graham, former death-row inmate exonerated and cleared of all
charges
           "Fatal Mistakes: Capital Punishment and Innocence"
                             Nov. 8th 2006 (WEDNESDAY)
                       11:15-12:45 (Common Hour)
HOFSTRA UNIVERSITY'S CULTURAL THEATER, (Across from Axinn Library, in
Student Center)
                               *Directions below*
Shujaa Graham speaks of his experience as a wrongly accused and
convicted death row inmate.
In 1973, Shujaa Graham was framed in the murder of a prison guard at the Deul Vocational Institute in Stockton, Calif. The community became involved in his defense and supported him through four trials. Graham and his co-defendant, Eugene Allen, were sent to San Quentin's death row in 1976, after a second trial in San Francisco. The DA systematically excluded all African American jurors and in 1979, the California Supreme Court overturned the death conviction. After spending three years on death row, Graham and Eugene Allen continued to fight for their innocence. A third trial ended in a hung jury, and after a fourth trial, they were found innocent. 
Currently, only two advanced industrial democracies, the United States and Japan, retain the death penalty. Since 1973, 123 people awaiting execution have been found innocent and exonerated, having spent an average of 9.2 years between their sentence of death and their exoneration. Recurring features in their cases include prosecutorial or police misconduct; the use of unreliable witness testimony, physical evidence, or confessions; and inadequate defense representation. Other US prisoners have gone to their deaths despite serious doubts over their guilt. 
Can a civilized society afford to subsidize and endorse a form of punishment that has such an immense human cost? You are invited to explore this question and other issues concerning the controversial subject of death penalty.
DIRECTIONS:
From All Points: From Exit M4 of the Meadowbrook Parkway you will be on Route 24 West (Hempstead Turnpike) … Stay on 24W for about one mile … Pass Nassau Coliseum … Hofstra University is on both sides of Hempstead Turnpike … You will see two overhead walkways … For the North Campus Main Entrance, make the first right after the first overhead walkway. Make a left into parking, and the student center is the first building to your left.
——————————————————————————–
From New York City: The Long Island Rail Road provides regular commuter service from Pennsylvania Station in New York City to the Hempstead station, which is less than two miles from Hofstra's campus … Pennsylvania Station is located at 34th Street and 8th Avenue, below Madison Square Garden. Take the Long Island Rail Road East on the Hempstead Branch to the final stop "Hempstead." Depending on the day and time, a
complimentary blue Hofstra bus may be waiting at the station to take visitors and students to the Hofstra campus.
MORE INFORMATION/ SET UP YOUR OWN EVENT FOR FREE:
COLLEEN EREN, LI ORGANIZER 516 849 2363
Filed under: Uncategorized Tagged: | Uncategorized