B21909 / Mon, 26 Feb 2007 02:13:53 / Government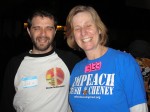 On February 17th and 18th, Impeach for Peace (IfP) co-sponsored the National Impeachment Summit in New York City. I (Jodin Morey) joined prominent figures in the movement (Laura Flanders, Ramsey Clark, Cindy Sheehan, etc.) and representatives from various organizations (World Can't Wait, After Downing Street, Code Pink, PDA, the Green Party, National Lawyers Guild, 911 Truth, etc.) to discuss impeachment.
There were many workshops offered during the summit, some simultaneously, so I was not able to attend all of them. I have grouped them into three categories: reasons for impeachment, strategies for impeachment, and post-impeachment plans. Since everyone reading this is well aware of the reasons for impeachment (http://impeachforpeace.org/evidence), I won't belabor that point. The most valuable results from the summit came from the discussions on strategy. The session covering the last category, post-impeachment, I found to be unproductive. . . .
Filed under: Action Alert!, activism, Anti-War, Labor, media, News, Political Websites, reform, US Politics Tagged: | book of the month