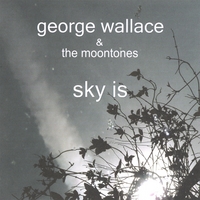 now that's cool! hey listen, i have news too — my new cd 'sky is' has just been placed on www.cdbaby.com, if you have a sec, go to www.cdbaby.com , and check it out. if you like what you hear, leave a comment.
thanks!
George Wallace
"Cool and musical"
–Donovan
"A post-existential enigmast"
–Charles Plymell
"A surreal trip through the heartland of America"
–A.D.Winans
"His reading voice reminds me of ee cummings, the best I know"
–Mary De Rachewiltz
"A spellbinding reader — Jack Kerouac would've loved him!"
–David Amram
Based in New York and a regular on the performance scene, George Wallace — author of fourteen chapbooks of poetry — tours nationally and internationally to read his work at cafes, universities and festivals. A trained musician as well as a master poet, he has performed from the Bowery Poetry Club to Carnegie Hall, from the Beat Museum to Woodstock, from Boston to Fort Lauderdale, and from the Dylan Thomas Centre to Shakespeare & Co, Paris. He appears frequently in the United Kingdom from Cornwall to Cumbria and London to Liverpool, and has read in Italy, Ireland, Denmark and Greece. And he's appeared at many festivals across the country, from the Woody Guthrie Festival, Lowell Celebrates Kerouac, Howlfest and Rexroth Festival to the Insomniacathon in Lexington, Kentucky.
Praised for the 'Whitmanian breadth' of his voice, and his distinctive merger of bop prosody and surreal commentary, recent years have seen Wallace on stage in collaboration with musicians or opening for them — a list that includes DJ Spooky, John Sinclair, Paul Winston and Levon Helm. And he is in the frequent company of such Beat, Post-Beat and Alternative figures as David Amram, John Cassady, Steve Dalachinsky, Ira Cohen, Donovan Leitch, Peter Max, Charles Plymell, Janine Pommy Vega, AD Winans and others.
For more information on George Wallace, visit www.myspace.com/ggeorgewallace  or www.poetrybay.com
Filed under: local, Long Island Music, original music, Recommended Music Tagged: | Harry Potter, Meatless, obesity, Uncategorized