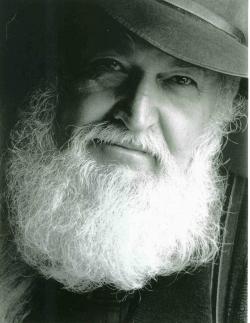 Bruce U. Utah Phillips
From an e-mail sent around:
In a matter of a few minutes Anne Feeney phoned me from an airport in Houston. Al Grierson's "Lonely Deadhead Box-Car" was playing on Random on my iPod. After our conversation, I went to check my email. Jim Page was singing "Anna Mae." I had an email from Jim. I have pasted it below. As I read it Utah sang "All Used Up." As I responded to Jim's Email Arlo Guthrie sang "Hobo's Lullaby."
> In the night of May 23, 2008, Bruce Duncan Phillips died in great peace, asleep in his bed in Nevada City, California, with his wife Joanna by his side.
>
> Amazingly, at the very same instant that the scholar Bruce Phillips
> finally discovered his angle of repose, U. Utah Phillips flagged a westbound freight train. Yes, a mighty fast rattler, on a long west-bound track. He needed no ticket, he was welcomed on board.
>
> The immediate family and neighbors of Bruce Phillips, along with any Wobblies who happen to be passing through, are gathering in Nevada City to do all the things that must be done. Please give them the quiet respect they so need right now.
>
> But you can wave "So Long!" to Utah when that train moves west. Hey, hear the whistle? He's passing by right now!
–
Bio from Wikipedia:
Bruce "Utah" Phillips (born May 15, 1935 in Cleveland, Ohio, died May 23, 2008[1]) was a labor organizer, folk singer, storyteller, poet and self-described "Golden Voice of the Great Southwest". He described the struggles of labor unions and the power of direct action. He often promoted the Industrial Workers of the World in his music, actions, and words.
–
Also see: Help Utah Phillips
Filed under: activism, Labor, News, Political Websites, progressive politics, Recommended Music, social & economic justice, US Politics Tagged: | ani difranco, iww, utah phillips