Full Book Review of The Occupy Handbook at Peace Couple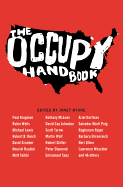 A few months ago, Peace Couple was queried about receiving a free review copy of The Occupy Handbook (2012, Back Bay Books). We received it a few weeks ago.
Over at our Peace Couple website, Ian wrote up his thoughts on the book, including what is in it, and what was left out. He also posted a complete list of the contributors (which include: Chris Hedges, Paul Krugman, Amy Goodman, and dozens of others).
An excerpt from Ian Wilder's review:
The Occupy Handbook…is heavily tilted toward economic issues (and covers them well), but the book barely acknowledges the democracy, social justice, antiwar, and environmental issues that have been raised by the Occupy movement.  That is why it would be important to include  the fruit of consensus process such as Occupy Wall Street's One Demand and the Declaration of the Occupation of New York City which contain a much broader vision of a better world than simply economic reform.
Read the rest of the review at: Peace Couple
Filed under: activism, Anti-War, Books, Corporations, grassroots democracy, News, Occupy Wall Street, progressive politics, social & economic justice, US Politics Tagged: | Adbusters, arab spring, Book review, book reviews, Gene Sharp, ian wilder, Naomi Klein, new york city, occupy, Occupy Handbook, Occupy Wall Street, review of Occupy Handbook