The only way that the Green Party can regain ballot status in NY is to get 50,000 votes for their Governor candidate in 2010. This opportunity comes only once every four years, and it only applies to the Governor's race. Gaining ballot status will enable the Green Party to run more peace candidates, more single-payer candidates, more anti-fracking candidates, and more sustainable energy candidates. The last time that the Green Party of New York State had ballot status it set the record for running the most Green candidates of any state.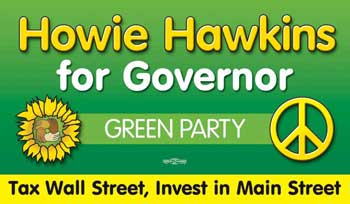 Howie Hawkins, the Green Party candidate for New York Governor, joined today with activists in Albany and nationwide in calling upon Congress to provide jobs for all Americans.
Hawkins said a guaranteed job for all New Yorkers was a cornerstone of his Green New Deal proposal.
Hawkins spoke at the Jobs Emergency Rally in Albany, sponsored by Jobs with Justice, Capital District Area Labor Federation, and the Capital District Labor-Religion Coalition.
Hawkins said:
When I am Governor, if you need a job and the private sector can't hire you, you'll just go down to the employment office 'not the unemployment office' and ask for your job. Local communities would plan the jobs in public services and public works. The state would fund these jobs that would employ unused labor to meet unmet needs as defined by the local community.
"It is time to complete the New Deal that FDR proposed more than 80 years ago, but which the Democratic leadership has abandoned. We have more than 800,000 New Yorkers who are out of work and another 800,000 who are involuntarily working part time or are so-called discouraged workers who want to work but have given up for on applying for jobs that are not there. Yet our state legislature cut funding this year for jobs programs for the poorest New Yorkers, despite receiving $638 million from the federal government to pay for such initiatives. It is time to revive public jobs programs, a great New York contribution to our nation's policy tool kit that the corporate-sponsored Democratic and Republican leadership wants us to forget. It was here in New York that public jobs to relieve unemployment was pioneered by Governor Roosevelt, his Labor Secretary, Francis Perkins, and his jobs administrator, Harry Hopkins in 1931 as the Great Depression deepened and then expanded when they went to the White House in 1933," said Hawkins.
"I also support both state and federal constitutional amendments to make a living wage job for all who are willing and able to work a responsibility of government and an enforceable right of citizens. A full employment policy that one government adopts a subsequent government can repeal after an election. It is long past time to make the right to a living wage job a constitutional right, as FDR proposed in his Economic Bill of Rights in his 1944 State of the Union address," said Hawkins.
In his 1944 State of the Union speech, President Roosevelt called for a
Second Bill of Rights, which included the right to a decent paying job, a good education and health care. Hawkins and the Green Party have included these rights in their new Green Deal Program, which would also call for massive investments in green, clean energy to help deal with the threats posed by climate change while providing the investments needed for a real economic recovery. Hawkins said that unfortunately the Democratic Party has abandoned its advocacy for such rights since 1978 when Congress passed a weakened version of a full employment act (known as the Humphrey-Hawkins Full Employment and Balanced Growth Act).
Hawkins said that he supported the call for a national financial transactions tax on securities trades that could bring in $500 billion a year in federal revenues at a one-tenth of one percent rate if it included derivatives trades ($500 trillion worth in 2008) as well as stocks and bonds. He said New York should lead the way here, also too, by ending the rebate to Wall Street dealers on the $16 billion it collects annually from the NY's century old Stock Transfer Tax of about one-twentieth of one percent on stock trades.
Hawkins said he supports deep cuts in the federal military budget which has drained huge tax payments from New York, including $93.9 billion for the war in Iraq and Afghanistan/ Pakistan since 2001 and $67 billion for Pentagon's budget just for FY2011. Hawkins noted that this enormous military spending to maintain a global empire of over 800 foreign bases and two major wars of occupation is a major source of both the budget and trade deficits that siphon away the dollars that could be used to create jobs through both the public and private sectors.
Hawkins also called for New York to learn from North Dakota and create a state bank to ensure that credit is available for job creation in green industries like renewable energy, mass transit, interurban rails, green buildings, and manufacturing to support these industries. At a time when the big Wall Street banks are speculating in paper titles to existing wealth instead of investing in the creation of new wealth in original or expanding enterprises, Hawkins said the state bank could invest in every area of New York's economy, from small businesses and affordable housing to the massive need for repair and renewal of water and sewer systems, roads and bridges, schools and other public buildings, and other public infrastructure.
Hawkins also advocates many of the economic initiatives promoted by the Sept. 15 Jobs coalition such as the Local Jobs for America Act, extension of the Temporary Assistance to Needy Families emergency fund jobs subsidies program, and increased unemployment insurance at both the state and national level.
Hawkins also supports a work sharing system similar to that in Germany to reduce the average work week in order to create more jobs. The German work sharing system pays German workers partial unemployment insurance when economic conditions require a reduction in work hours in a company. The work sharing system enables the companies to keep their workers employed part time instead of laying them off completely and the workers do not suffer a major loss of income. It saves companies and government the cost of full unemployment insurance while keeping experienced workers in their jobs. The same principle could be applied across the economy to reduce the work week with no loss in pay as part of program of full employment.
Related Articles
Filed under: News Tagged: | great depression, green, Green New Deal, howie hawkins, New Deal, new york, united states, wall street