The only way that the Green Party can regain ballot status in NY is to get 50,000 votes for their Governor candidate in 2010. This opportunity comes only once every four years, and it only applies to the Governor's race. Gaining ballot status will enable the Green Party to run more peace candidates, more single-payer candidates, more anti-fracking candidates, and more sustainable energy candidates. The last time that the Green Party of New York State had ballot status it set the record for running the most Green candidates of any state.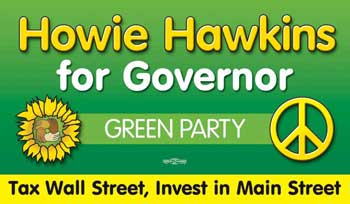 Hawkins Challenges Cuomo to Spell Out Plans to Resolve Budget Deficit
Howie Hawkins, the Green Party candidate for Governor of New York, said today this his opponents in the  Governor's race needed to start putting real proposals on the table to deal with the projected $9 billion deficit in this year's state budget.
Hawkins, a Teamster who unloads trucks for UPS in Syracuse, has advocated a range of revenue options targeting Wall Street and wealthy New Yorkers that would generate more than $30 billion in additional revenue.
Hawkins, the only union member running for statewide office, criticized
Democrats Cuomo and Duffy for their attacks on unions. Hawkins said he would be a strong proponent of organized labor as Governor and would seek to raise the state minimum wage, unemployment benefits and pension protections.
Hawkins noted that more than 800,000 New Yorkers are out of work yet the Democratic state legislators failed to pass legislation to raise either the maximum or average unemployment benefits.
Hawkins also released a new Green Hornet video, "Where's the Money?" at http://www.youtube. com/user/urbandisasterrecords
"Cuomo has evaded telling the voters how he would have resolved this year's budget deficit and is continuing to avoid providing specifics on how he plans to resolve next year's $9 billion deficit. The next Governor will have to propose a budget a little than two months after the Election Day. I have laid out specific numbers on how I plan to balance the budget and increase investment in schools, renewable energy, job creation and education. I challenge my opponents to do the same and to debate their proposals with me in public," said Hawkins.
Hawkins wants the state to keep the proceeds from the Stock Transfer Tax, about $16 billion. Right now the state rebates it back to Wall Street traders. He wants to restore the progressive income tax structure New York had in the 1972. That would cut income taxes for 95% of New Yorkers and still raise $8 billion more in state revenues. And Hawkins wants a 50% Bankers Bonus Tax on the over $20 billion in 2009 cash bonuses Wall Street handed out after the taxpayers bailed them out. That would raise another $10 billion.
"Put these three progressive tax reforms together and the state would have a surplus of $35 billion instead of a deficit of $9 billion. With that $25 billion the Greens would put the 800,000 plus unemployed New Yorkers to work in public works and services. We can make the needed investments in renewable energy and energy conservation that would provide the foundation for a carbon-free, sustainable economy. We could fully fund our public schools, while making community colleges, CUNY, and SUNY tuition free. This is what we call the Green New Deal," said Hawkins.
Hawkins also supports the establishment of a state-owned bank like North Dakota has to ensure access to credit for New York businesses, consumers, and students while guiding sustainable green economic development. North Dakota is one two states without a budget deficit and its bank always returns a profit while reinvesting its deposits in building the state's economy.
"Under both Democrats and Republicans, New York's economic development agenda has been tax cuts for the rich and more corporate welfare for large campaign contributors. It has failed to produce the jobs that New York needs. Under a Hawkins administration, job creation is going to be about providing jobs to the unemployed and democratic community control of investments in local businesses and infrastructure, not big handouts to the rich and powerful," said Hawkins.
Hawkins supports an increase in the state minimum wage to $12 an hour; a constitutional amendment to guarantee a living wage job; strengthening of workers' rights, including the right to unionize, starting with a repeal of the Taft-Hartley Act; a reduction in the work week to 32 hours; increased government support for employee ownership; enactment of a single-payer universal health care system; extending state and federal labor laws to protect farm workers; and mandatory six week vacations for all workers.
"We need stronger unions and more workers organized into unions in order to promote the interests of the vast majority of New Yorkers who live by their labor. We need a stronger and united labor movement to stand up to the power of Wall Street and the wealthy at the State Capitol. Cuomo is going in the opposite direction, threatening to cut pay and jobs for public employees and cut essential services to close the budget deficit while the Wall Street and the wealthy pay lower rates of state and local taxes than working people," stated Hawkins.
Hawkins and many other union members regard Cuomo as antagonistic towards unions, especially teachers and other public employee unions.
Cuomo introduced his running mate, Rochester Mayor Bob Duffy, at the state Democratic convention by saying he chose him because he was willing to "tangle" with public employee unions. On August 2, Daily News political columnist Liz Benjamin wrote that Cuomo is especially critical of "bad" public sector unions with their "expensive contracts and pensions and refusals to agree to give-backs, (which) has labeled them special interest No. 1 in many minds."
"The problem isn't strong unions protecting workers. The problem is that wages have remained stagnant in America since the 1970s while productivity has gone up 80%. New York leads the country in income equality. The wealth that workers create only goes into the pockets of the wealthy. The Democrats in power in DC have broken their promises of labor reform. I intend to revive the New Deal tradition that began in New York with political leaders like FDR, Frances Perkins and Robert Wagner who championed workers rights, setting an example that the rest of the nation then followed when the New Deal went national. And then we will 'green' the New Deal by building a sustainable green economy and economic democracy," said Hawkins.
Hawkins said that Cuomo appears to be particularly targeting teachers with his open attacks on public employees, his promotion of charter schools as the new "civil rights movement," and his support for undercutting funding for schools through proposals such as a state spending freeze and a property tax cap.
Hawkins said that during the campaign he will continue to walk picket lines and support workers defending living standards in contract disputes (e.g., Momentive Process Materials, Mott's, Coyne Textile Services) with employers who are using high unemployment to attack wages, benefits, and working conditions.
Related Articles
Filed under: 3rd party, election, Election 2010, elections, governor, grassroots democracy, green, Green Party, new york, New York State Politics, News, politics, US Politics Tagged: | Civil and political rights, green, Green New Deal, Green Party New York, Green Party of New York State, Income tax, Labour law, new york, Single-payer health care, Trade union, united states, wall street