Come raise funds and raise the roof, with local music group, "Blacklisted and the Banned."
The Green Party of Suffolk will be holding a "Summer in Setauket–Green Fundraising Party" on Friday, June 22 from 7pm to 10pm at the Setauket Neighborhood House, 95 Main Street, Setauket. (Go 1/3 mile east on 25A from Nicholls Road. Turn at the 1st light onto North Country Road which becomes Main Street. Neighborhood House is 1 mile up that road on the right.) www.setauketneighborhoodhouse.com. The evening will include a potluck dinner, music, an art auction, and a display of the Green Party of Suffolk's "Bring Home The Troops" poster contest entries. The winning poster from the youth category is on display now at www.gpsuffolk.org.
Vegetarian and vegan dishes will be served. Admission is $15 (with a dish) and $20 (without a dish). Children are welcome. There will be a silent auction of work by local artists. Please note that political donations are not tax-deductible, but are greatly appreciated.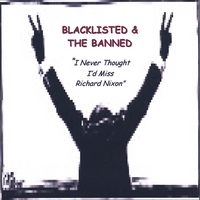 Blacklisted & The Banned will perform their unique style of original, political music. Blacklisted features Sonny Meadows, Bob Westcott, Jon Foreman, Bob Campbell and Robert Langley. Blacklisted's repertoire is sure to include some words against war and you can also expect them to play at least one song from their recently released first album, "I Never Thought I'd Miss Richard Nixon." More information about Blacklisted & The Banned can be found at www.sonnymeadows.com.
The Green Party is an alternative to the Democrats and Republicans. The Green Party's values can be described by the four pillars of: Nonviolence; Grassroots Democracy; Ecological Wisdom; and Social and Economic Justice.
Donations and/or requests for advance tickets can be sent to: Green Party of Suffolk, 14 Robin Drive, Huntington, NY 11743. For more information call Roger at (631) 351-5763 or go to www.gpsuffolk.org
Filed under: 4 Pillars, 9-11, Action Alert!, Anti-War, Babylon Politics, buy local, Death Penalty, Ecology, election, events, Food, grassroots democracy, Green Party Websites, health, immigration, international politics, Job Posting, local, Long Island Music, Long Island Politics, media, More Events Calendars, New York State Politics, original music, Our Favorite Radio Stations, Political Websites, rants, Recommended Music, sustainability, third party Tagged: | feast, Harry Potter, Meatless, obesity, sunflowers, third parties, Uncategorized, vegetarien