While Dems take labor support for granted and cave in to corporate lobbies, Greens fight for working people; Green Party candidates say "We don't have a shortage of work ethic in America, we have a shortage of work"
Green Party candidates for Congress and other public offices have drawn important endorsements from unions and labor organizations, as well as union leaders and rank and file members throughout the US.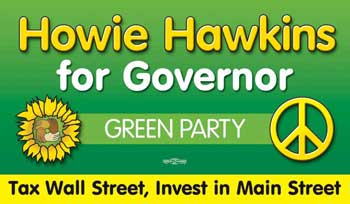 "Unions and working people are waking up to the fact that they have a party willing to fight for them — the Green Party," said Howie Hawkins, Green Party candidate for Governor of New York (http://howiehawkins.com/2010) and a member of Teamsters Local 317 (see below).
"While Democratic politicians take labor votes for granted, Greens are pushing for the creation of millions of Green jobs, public works programs, and the right to organize in the nation's workplaces.  While Democrats cave in to wealthy corporate lobbies and campaign contributors, Greens are promoting Medicare For All and opposing plans by the White House's 'Catfood Commission' to cut Social Security.  When Democrats and Republicans sent Wall Street billions in bailouts, Greens demanded help for working people suffering under the economic meltdown.  The Green Party says: we don't have a shortage of work ethic in America, we have a shortage of work," said Mr. Hawkins.
Recent labor endorsements for Green candidates:
• TOM CLEMENTS, South Carolina Green candidate for the US Senate (http://clementsforsenate.com), has been endorsed by the Greater Columbia Central Labor Council of the South Carolina AFL-CIO, comprised of 17 local unions and affiliate organizations, in his bid against incumbent Republican Senator Jim DeMint and Democratic nominee Alvin Greene.
The CLC, in its endorsement, stated that it believes Mr. Clements "will best represent the interests of the working people of South Carolina."
"I am pleased to receive this endorsement and the growing support across the state for our campaign," said Tom Clements. "I fully anticipate that other union members and working people will listen to what I have to say, volunteer to help us change South Carolina and American politics and vote for me on Election Day. For working people, I am the clear choice over DeMint, the ultra-right mouthpiece for unregulated big corporations, and over Greene, who doesn't have a discernible plan to help working folks. I hope that many more union locals hear my pro-worker message and support our campaign. Together, we can fight for working folks and win."
More information: "Unions Endorse US Senate Green Party Candidate Tom Clements," South Carolina Black News, July 15, 2010 http://www.scblacknews.com/index.php?option=com_content&view=article&id=768:unions-endorse-us-senate-green-party-candidate-tom-clements&catid=1
Central Labor Council endorsement letter http://clementsforsenate.com/images/stories/election/Clements_letter.pdf
• BEN MANSKI, candidate for Wisconsin State Assembly in District 77 (http://votemanski.com), won the endorsement of the  Madison Teachers Inc. in the progressive college town of Madison.  Mr. Manski is emerging as a strong contender for a seat traditionally held by a progressive Democrat.
Mr. Manski is principal attorney at Manski Law, LLC a, as well as a member of American Federation of Teachers Local 6100 and an associate fellow with the Institute for Policy Studies in Washington, DC.  From 2001 to 2004, he served as co-chair of the Green Party of the United States.
More information: "MTI's endorsement of Green Party's Ben Manski is very big deal," by John Nichols, The Capital Times, August 26, 2010 http://host.madison.com/ct/news/opinion/column/john_nichols/article_c260382d-77f3-5aa5-8f7f-1a8a14483a5a.html
• LYNNE WILLIAMS, running for the Maine State Senate in Hancock County (http://www.lynnewilliams2010.org), was endorsed by the 25,000-member Maine Education Association, an affiliate of the National Education Association.
"I am honored to receive this endorsement," said Ms. Williams. "I have spent many years, both before attending law school and as an attorney, working with schools and teachers. Much of my practice is special education law, and I am always particularly impressed with those whose calling is working with children. This endorsement is very meaningful to me and I look forward to having MEA members involved with my campaign."
More information: http://www.lynnewilliams2010.org/maine-education-association-endorses-williams
• HUGH GIORDANO, running for State Representative in Pennsylvania's 194th district (http://www.hughgiordano.com), has been endorsed by United Food and Commercial Workers (UFCW), Local 152.  He has also received financial support from Teamsters, Local 77; Iron Workers, Local 401; Iron Workers, Local 405; and Bricklayers, Local 1.  Mr. Giordano is a full-time union organizer running against a Democrat who is also a CEO and management consultant.
"I have been talking with neighbors, and I sense a change in voters. People are tired of politics as usual and want someone in Harrisburg who will speak for them — not for corporations and big business," says Giordano.
Video clip: "Women for Hugh" (with discussion of labor-related issues), http://vimeo.com/14134468
• MARK SWANEY, Green Party candidate for Arkansas state representative in the 90th district, was endorsed by the Arkansas AFL-CIO.  His sole rival in the race is a Republican.  More information: "Arkansas AFL-CIO Endorses a Green Party Nominee for Legislature," Ballot Access News, August 24, 2010 http://www.ballot-access.org/2010/08/24/arkansas-afl-cio-endorses-a-green-party-nominee-for-legislature/
• ROGER GAY, candidate for Maine State Representative in District 134 (http://rogerbgay.yolasite.com), received an endorsement from the Maine State AFL-CIO and SEIU Local 1989.  Mr. Gay is an elected executive board member of Unite Here Local 406.
• HOWIE HAWKINS, candidate for Governor of New York and member of Teamsters Local 317, is being supported by a Labor Committee for Howie Hawkins, initiated by group of union officers and rank-and-file members to promote his campaign in New York labor movement (http://howiehawkins.com/2010/labor-for-hawkins.html).
Mr. Hawkins has strongly criticized attacks by Attorney General and Democratic gubernatorial candidate Andrew Cuomo on Public Employee Unions and proposed austerity policy for New York, which would hurt public employees without increasing taxes on the state's wealthiest residents (http://howiehawkins.com/2010/labor-for-hawkins/116-cuomo-attacks-public-employee-unions.html).
Video clip: Mr. Hawkins speaks at a picket and rally in support of IUE-CWA 81359 workers at Momentive Process Materials in Waterbury, NY in June http://www.youtube.com/watch?v=SUfV79v5HCQ
Related Articles
Filed under: 3rd party, congress, election, Election 2010, elections, governor, grassroots democracy, Green Party, Labor, new york, New York State Politics, News, politics, Press Release, Senate, third party, US Politics Tagged: | Alvin Greene, AlvinGreene, BEN MANSKI, democratic, green, Jim DeMint, South Carolina, Tom Clements, unions, United Food and Commercial Workers, united states, Wisconsin State Assembly