The only way that the Green Party can regain ballot status in NY is to get 50,000 votes for their Governor candidate in 2010. This opportunity comes only once every four years, and it only applies to the Governor's race. Gaining ballot status will enable the Green Party to run more peace candidates, more single-payer candidates, more anti-fracking candidates, and more sustainable energy candidates. The last time that the Green Party of New York State had ballot status it set the record for running the most Green candidates of any state.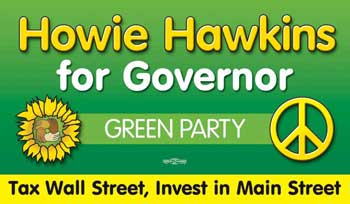 Howie Hawkins, the Green Party candidate for Governor, urged Governor Paterson today to sign a bill to make it illegal for landlords to refuse to rent to prospective tenants based on their source of income. The bill applies statewide.
Hawkins said: .
Access to quality, affordable housing is a human right. This bill is critical to help curtail discrimination against our most vulnerable residents, including the disabled. I urge Governor Paterson to sign the bill.
Source of income is defined as:
wages from lawful employment;
child support;
alimony;
foster care subsidies;
social security;
public assistance;
housing and rental subsidies and assistance including Section 8 vouchers;
savings,
investments and trust accounts; or
any source of lawful income.
New York City Mayor Mike Bloomberg is supporting landlords and urging the Governor to veto the bill. Landlords are pushing for the Governor to support a chapter amendment to conform to the NYC law on this subject, which applies to buildings with six or more apartments. The current bill applies to all rental housing in buildings with more than two families. Given the fact that outside New York City, more than 60 percent of rental units are in buildings with fewer than six units – such an amendment would gut the law.
Many landlords and realtors reject tenants solely because they rely on
public assistance or disability programs, such as Social Services Disability Insurance, Supplemental Security Income, and Section 8 and Advantage housing vouchers. Low-income families often end up in shelters – costing the taxpayer $3,000 a month – since landlords don't want to rent to someone whose rent is partially paid for by the government. Or the families are forced to live in unsafe, inadequate housing. Before New York City adopted source-of-income protections in 2008, 90 percent of landlords refused to accept Section 8 vouchers, according to one survey
Under the best of circumstances, it's difficult for people with disabilities to find decent and accessible housing. By preventing landlords from rejecting rental applications based on source of income, this bill protects vulnerable New Yorkers from unfair discrimination and ensures that they have more and better housing options.
Private and government studies have shown that source-of-income discrimination unfairly limits housing choices, perpetuates segregated housing patterns, contributes to homelessness and sometimes serves as a proxy for racial discrimination.
Filed under: 3rd party, Action Alert!, activism, election, Election 2010, elections, grassroots democracy, Green Party, housing, new york, New York State Politics, News, politics, Press Release, social & economic justice, third party Tagged: | discrimination, fair housing, housing, income, tenant