The only way that the Green Party can regain ballot status in NY is to get 50,000 votes for their Governor candidate in 2010. This opportunity comes only once every four years, and it only applies to the Governor's race. Gaining ballot status will enable the Green Party to run more peace candidates, more single-payer candidates, more anti-fracking candidates, and more sustainable energy candidates. The last time that the Green Party of New York State had ballot status it set the record for running the most Green candidates of any state.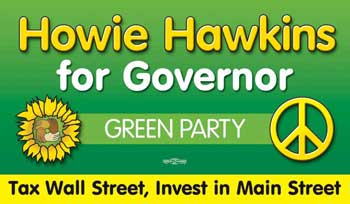 Howie Hawkins, the Green Party candidate for New York Governor, will be speaking  Wednesday night, Sept. 15th in Albany at the Jobs Emergency Rally at Townsend  Park (Clinton & H Johnson Blvd) at 4:30 PM. Sponsors of the rally include  the Capital District Labor-Religion Coalition (CDLRC), Capital District Area Labor Federation, Jobs with Justice, and Interfaith Worker Justice. Hawkins will then join the car caravan to the Holiday Inn Latham in Support of  the picket against Jim Morrell.
Later that evening Hawkins will address the Troy Area Labor Council at
7:00 PM. Hawkins, who is Teamster who unloads UPS trucks in Syracuse, is the  only union member running for Governor.
At 10:30 PM, Hawkins, who normally works a 3rd shift at UPS in Syracuse, will leaflet the Momentive Process Materials 2nd and 3rd shift change in Waterford NY.
Statement of Howie Hawkins on Settling Mott Strike
Howie Hawkins, who twice walked the picket line with the Mott's strikers in Williamson, New York during their strike, issued the following statement on the contract settlement approved by the Mott's workers on Monday.
"I have been inspired by the solidarity and commitment of the Mott's
strikers. They set an example for all workers and their unions confronted by profitable companies that demand big concessions in contract negotiations.
"I agree with the statement of Mike LeBerth, president of the union local, that 'Neither side is happy with what we got. Was it worth it? Yes, because we stood strong and the company knows we're a force to be reckoned with.'
"I am disappointed that the workers weren't able to defend more of their wages and benefits in the new contract. I am especially concerned that new hires are limited to the 401k retirement plan and excluded from the defined benefit pension plan, which continues a bad trend for workers across NY and the nation.
"But all workers should thank the Mott's strikers for how they united and fought together, which not only helps their union going forward but is an inspiration for all workers today when the corporations are using high unemployment as an opportunity to demand ever more concessions on wages,  benefits, and working conditions."
Related Articles
Filed under: 3rd party, Action Alert!, activism, election, Election 2010, elections, governor, grassroots democracy, Green Party, new york, New York State Politics, politics, US Politics Tagged: | Corporation, green, Green Party New York, Green Party of New York State, howie hawkins, Jobs with Justice, new york, pension, politics, Sustainable energy, unions, united states, Williamson New York