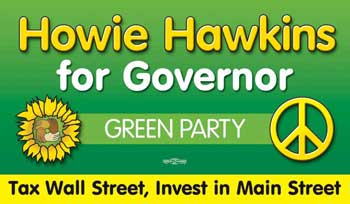 From Jeff Peress:
You are invited to an exciting house party for Howie Hawkins; Jeff will be cooking some of his culinary delights and yes you can bring food and drinks preferably non-alcoholic drinks.I will be serving non-meat but yes there will be some dairy products. Come meet and greet Howie Hawkins for governor.
House Party for Howie Hawkins.
Where: 16 Douglas Drive
Glen Cove, NY 11542-2607
When:  Saturday,October 16th, 2010
Time: 7:30pm – until everyone is tired.
Contact: Jeff Peress *82 (516)759-9282
R.S.V.P. I would like to get a count on how many are attending.
We also need help that day at the Oyster Fest distributing leaflets for Howie and the rest of the team.
Related Articles 
Filed under: 3rd party, activism, Anti-War, Calendar, election, Election 2010, elections, events, governor, grassroots democracy, Green Party, howie hawkins, local, long island, Long Island Politics, new york, New York State Politics, News, politics, third party, US Politics Tagged: | election, green, Green Party New York, house party, howie hawkins, Middle East, new york, united states