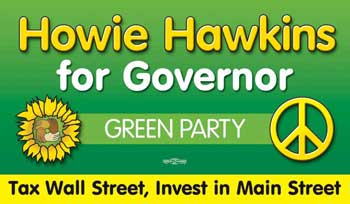 WFP retreats even farther, adopting Cuomo's "let's wait for the study"
Green Party of New York Governor candidate Howie Hawkins has  called for an outright ban on hydrofracking for natural gas. It presents Too many public health and environmental dangers. Plus it puts money into another fossil fuel when we should be investing in renewable energy and conservation to create a carbon free economy.
In recent months, the Working Families Party (WFP)  has been trying hard to siphon green votes by supporting legislation calling for a moratorium on hydrofracking until next spring. WFP has been circulating Internet petitions to get a list of people opposed to hydrofracking and hand out free bumper stickers.
The so-called moratorium bill has become the position of liberal Democrats. Gets them through this election cycle as an anti-fracking candidate but the industry isn't too mad since the moratorium doesn't cost them any time. DEC is doing an Environmental Impact Study anyway, which means they can't get a permit until that is completed.By the time the study is completed, the
ground will be frozen and they can't drill until the spring – plus it will take time to process the permit applications to comply with whatever "rules" DEC promotes. So the moratorium bill has primarily been a smokescreen.
Now the Working Families Party has retreated even further, embracing the position of Andrew Cuomo. He wants want to wait for the EPA to study the issue. No mention that they have rejected the moratorium issue.
Which is "let the regulators decide whether or not hydrofracking is safe." After the special interests get to weigh in with the Democrats in DC; look how well they just did with climate change. Most expect the government regulators to conclude, " yes, hydrofracking is ok with proper safeguards." So they'll writet a few regulations to "protect" the environment and then
it will be, drill baby drill.
The WFP ends by citing a Democrat and Chronicle article as documentation of Cuomo's supposedly good stance on hydrofracking — except it's an op-ed criticizing Cuomo and endorsing the Green Party"s Howie Hawkins for Governor as a true opponent of hydrofracking:
There is a candidate for governor who is against hydrofracking—Green Party's Howie Hawkins. If you can vote for Andrew Cuomo with a clear conscience, then you should do that. If hydrofracking happens in New York State, I will blame YOU—the voter—because you do have the power and you repeatedly fail to use it wisely.
Vote for a ban on Hydrofracking. Vote Howie Hawkins and the Green Party. See http://www.howiehaw kins.org/ for his position
paper on why hydrofracking should be banned. Don't be fooled by WFP.
Related Articles
Filed under: 3rd party, Action Alert!, activism, Ecology, election, Election 2010, elections, energy, Environment, governor, grassroots democracy, Green Party, howie hawkins, new york, New York State Politics, News, politics, sustainability, sustainable, third party, US Politics Tagged: | andrew cuomo, fracking, green, Green Party New York, howie hawkins, hydraulic fracturing, hydrofracking, new york, politics, United States Environmental Protection Agency, Working Families Party