Hello All,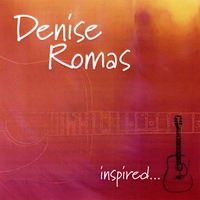 It is with great excitement that I announce the release of my full-length CD "INSPIRED".
The CD features my original songs including "LETTING GO", about the Law of Attraction and the benefits of releasing limiting beliefs.

Also included are my interpretations of traditional songs. I was most fortunate to have excellent musicians joining me on some tracks as well.
By visiting www.cdbaby.com/cd/romas3 you can read more, listen to the tracks and make a purchase if you're interested. CD Baby is a very efficient and friendly company to do business with.
Also, remember that my CD Single, " A HEALING ANGEL" is available at www.cdbaby.com/cd/romas and makes a thoughtful and sensitive gift for anyone on your holiday list who has lost someone this year, or is simply in need of some comfort.
All the best to you,
Denise www.deniseromas.com
Related video:
CNVC discussion in response to Denise Romas'song
Filed under: local, Long Island Music, original music, Recommended Music