"There is no simple formula for the relationship of art to justice. But I do know that art—in my own case the art of poetry—means nothing if it simply decorates the dinner table of power which holds it hostage" – Adrienne Rich writing to NEA chair Jane Alexander t to decline President Clinton's proffer of the National Medal for the Arts.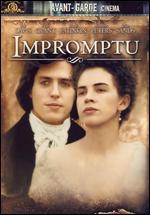 For New Years Eve, Ki and I watched the movie Impromptu that we had taken out of our local library.  Have to give a shout-out to public libraries,  we have seen many great movies from their collection.  Often these movies are discovered happenstance as this one was.
We, of course, interrupted the movie before midnight to toast with Martinelli's Organic Sparkling Cider and a Moo Cluck Vegan Cupcake. We noted that the organic Martinelli's  does not have the harsh edge that the non-organic does.  Moo Cluck is always wonderful. After a couple of curiosity-inspired IMDB and Wikipedia searches, we were back into the movie until about 2am.
We found the movie engaging in many ways.  The plot moved quickly while explaining the characters.  It was refreshing to not have to suffer through the non-linearity which seems to have become a movie making crutch. Most importantly, the characters hewed to historically accuracy.  I admit to being a difficult film-watcher.  I like to be both entertained and informed.  I ended the film feeling I was better acquainted with the personalities and art of George Sand, Frédéric Chopin, Franz Liszt, and Eugène Delacroix.
[youtube=http://www.youtube.com/watch?v=mGkif89QCtw]
The movie is also a meditation upon art and creativity.  In some ways, it reminded me of the quote that starts this post. Is art merely another trade by which one earns a living? Or, is art a craft that must be honed for its own sake?  Is the artist's truth more important than current societal mores? Is art more valuable than craft? Are artists more valuable than their audience?
The actors were a joy to watch: Judy Davis played the lead, George Sand, who seemed to be the Ur-Patti Smith.  This early career performance by Hugh Grant as the genteel Chopin was in line with his other restrained period performances such as in Emma Thompson's Sense and Sensibility.  Sand's under-the-piano listening sessions reminded us of the much later Hugh Grant vehicle with Drew Barrymore, the decidedly less erudite Music and Lyrics. I have to mention how much we enjoyed watching Thompson's small part as a befuddled provincial patron of the arts.  Her befuddlement does not rise to the level of her Professor Trelawney potrayal in the Harry Potter movies.
To add some name confusion with the George Sand character, the actor Julian Sands is striking in his portrayal of Liszt.  While Bernadette Peters gave an unexpectedly dramatic performance as his partner, and Sand frenemy, Marie d'Agoult. Like Thompson, Mandy Patankin also is a joy to watch as author, and former Sand love, Alfred De Musset.
I finished the movie with a satisfied feeling.
Upon the reflection the next day, my gluttony did want more historical context in the script.  Sand was such a cutting-edge feminist, it would have been good to see where she fit, or didn't, within her historical context.
[youtube=http://www.youtube.com/watch?v=tvm2ZsRv3C8]
Related articles
Filed under: Art, film, music, News, social & economic justice, video Tagged: | Adrienne Rich, Emma Thompson, Eugène Delacroix, Franz Liszt, Frédéric Chopin, George Sand, Hugh Grant, Jane Alexander