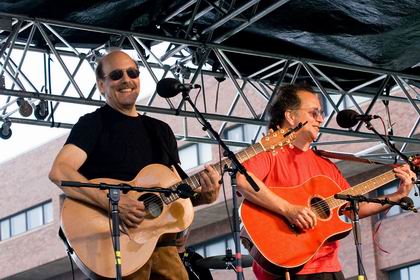 Harmonic and Witty Folk-Pop Duo Perform for Our Times Coffeehouse
David Buskin & Robin Batteau bring their "irresistible amalgam of melodic, sensual pop, folkie grit and killer wit" (The Washington Post) to Long Island on Friday, May 21.  Buskin (piano, guitar) and Batteau (violin, guitar) — accompanied by virtuoso percussionist Marshal Rosenberg — will perform for the Our Times Coffeehouse, a volunteer-run, monthly concert series held in the Ethical Humanist Society building at 38 Old Country Road in Garden City. Admission for the 8 p.m. concert is $20; $12 for seniors and students.
As a duo, Buskin & Batteau have performed on London street corners, in New York 's Carnegie Hall and at folk festivals throughout the U.S.  They also have shared Grammy, Emmy and Gold Record Awards and have performed and recorded with a host of Americana favorites.  More information on them, as well as a few choice songs, can be found online at www.buskinandbatteau.com.
Launched in 1990, the Our Times Coffeehouse is a joint project of the Ethical Humanist Society of Long Island and the Long Island Progressive Coalition.  More information is available online at www.ourtimescoffeehouse.org.
Following a 13-year hiatus, Buskin and Batteau, returned to the studio last year to record their fourth CD, Red Shoes and Golden Hearts, and have been touring since its release.  The classically-trained artists, who describe themselves as "hopelessly romantic," "defiantly immature" and "usually hungry," have been Clio-winning jingle writers ("The Heartbeat of America" for Chevrolet, "All Aboard Amtrak" and "I'm Lovin' It" for McDonald's, among others) and have written songs that have been recorded by such notable artists as Judy Collins; Astrud Gilberto; Ladysmith Black Mambazo; Johnny Mathis; Bette Midler; Anne Murray; the Oak Ridge Boys; Peter, Paul & Mary; and Tom Rush (with whom they got their start in 1979 as his backup band). With their mix of talent, showmanship, Everly-crisp vocal harmonies and what Stephen Holden of The New York Times called their "by turns acerbic, funny and plaintive" music and commentary, Buskin & Batteau are consummate entertainers in their own right.
"Their harmonies and wonderful presence onstage is as captivating as ever," says Ron Olesko, host of "Traditions" on WFDU-FM in New Jersey, who called Buskin and Batteau the highlight of  2009's Northeast Regional Folk Alliance (NERFA) conference.
Boston music critics tag the duo as "post-folkies on cruise control, sexy and magical," and describe their latest release as "acoustic heaven."
Filed under: Calendar, events, local, long island, Long Island Music, News, original music