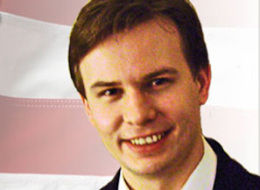 After the announcement of incumbent alderman Gene Schulter's departure from the 47th ward alderman election, Green Party candidate Matt Reichel has pronounced himself the favorite:
I am the only remaining candidate who has been actively campaigning and organizing in this ward for nearly two years, as part of my congressional campaign.
Reichel was previously the Green party candidate for Congress in the 5th District.  Reichel, who will now occupy the top ballot spot, continued:
Thirty- Six years ago, this ward elected its first Democrat in the form of a young 20-something with a German last name.  This year, we are going to elect Chicago's first Green alderman in the form of a German descendant with top ballot position.
The Reichel campaign recently survived a 6-week long legal battle to maintain its ballot spot, due to a relentless challenge by Schulter's ward organization. Reichel said: "Schulter's intent was to get his chosen successor on the ballot, Tom O'Donnell, and then to eliminate any meaningful opposition. Fortunately, their legal challenge to my candidacy was purely a wild goose chase. I am proud to announce that the people of the 47th won in the courts, and on February 22nd, I am confident that we will win this race for the working people of the ward."
Reichel's website has more information about his stance on the issues: www.mattreichel.us
Filed under: election, elections, grassroots democracy, Green Party, News Tagged: | Alderman, chicago, Colonie New York, democratic, green, Matt Reichel, Ward (country subdivision)